Here's a list of rhythm stick activities for preschool and kindergarten music class. Some of the activities can even be used with toddler classes. It's great for having a rhythm stick day where you'll only need to pass out rhythm sticks instead of multiple instruments. You can also use an activity here or there to supplement your music lessons. The songs are short and can easily be added to your lesson if kids are already going to have the sticks on hand for something else you've planned.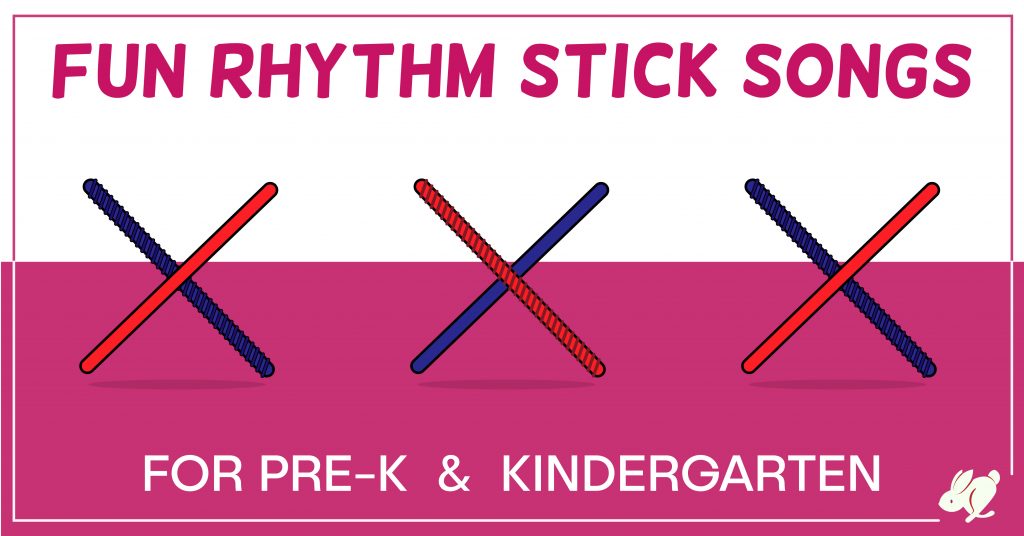 Introduction to Rhythm Sticks by Little Ditties Music Academy
Here's a fun way to make sure your youngest students don't poke each other in the eye! The trick is to make a bubble and glue elbows to knees.
Rest Position
Turn rest position into a game. First, go over a few ways to put your sticks in rest position, then, have students come up with new ways. You can practice the different positions by having them copy what you do in the song "Tap Our Sticks Together" by Rahel (Ann Rachel). Then you can choose student leaders.
View this post on Instagram
Somebody's Knocking by Ian's Music Room
I Have a Little Hammer by Kathy Reid-Naiman
Tap Your Sticks by Makin' Music Rockin' Rhythms
My classes are mesmerized by this one. It's sung to the tune of "Skip to My Lou" and the class uses their rhythm sticks to make a pizza! You can adapt this song to make a dish of your choice. For a peanut butter jelly sandwich, the class can knead the dough, put it in the oven, slice the bread, spread the peanut butter, spread the jelly, and slap the pieces together. You can get even more detailed by having them crack peanuts, smush grapes, etc. To make a soup, chop various veggies and stir the pot. There's another song by Makin' Music Rockin' Rhythms that is about making a pizza called Mama Mia.
The Toolbox Song by Rachel Rambach
I was recently introduced to Rachel Rambach on Instagram by Jenny Focht. Both women compose great songs for early childhood. Here's one that transforms rhythm sticks into a hammer, paintbrush, saw, and drill. You can also download the music on Rachel's website. It's in C major and very easy to accompany with a uke, guitar, or piano. The link is in the YouTube description.
Rhythm Stick Activities by Jrbary
Ah, the librarians of Jbrary. They have preschool chants and fingerplays for almost any topic. Here's their playlist of 13 chants and songs using rhythm sticks.
"Woodpecker" by Hap Palmer
Hap Palmer has an album called Rhythms on Parade with a rhythm stick song called "Tap Your Sticks." This song explores multiple ways that sticks can be played such as tapping, rubbing, and hammering. However, it may be a little too complicated for Pre-K. "Woodpecker" is on the same album and it's great for echoing the woodpecker's patterns. Extend this lesson by having the class echo your patterns or patterns from classmates. This song is streamable on Spotify and Apple Music.
"Tap Tap (Your Rhythm Sticks)" by We Kids Rock
The sticks are used for marching, rolling, tapping, and zipping in this Ramones-style song. For zipping, you can let the kids decide how they will zip. Some examples could be to fly the sticks like a rocketship, slide one stick down another, or move it along the floor like a car. This song allows for some wiggle room between directives for you to get creative so why not have a student show-off with a drum solo.
"Edwards Rhythm Sticks" by Franklin Willis
End your lesson with a book all about rhythm sticks! There's a repeating, rhythmic phrase that is chanted and includes a cue for kids to click their sticks to the beat throughout the story. Buy the ebook or paperback version here. Click the upper image for the ebook and the lower image for the paperback. I also really enjoyed listening to an interview with Franklin Willis on Missy's Strong's Music Ed Amplified podcast. His advice to "find your teacher voice" brought new joy to my teaching day.
I hope this list is helpful if you are in need of a handful, or just one rhythm sticks song. If you are looking for more Preschool and K activities, you can find them in my shop. My Boom Cards are especially great for distance learning assignments!