Hate changing your bulletin board every month?   Love Breaking Bad… or chemistry…
This is an easy way to take one bulletin board and adjust it to focus on something new.
I required to show student work that incorporates literacy, so I took one of my old ideas and repurposed it.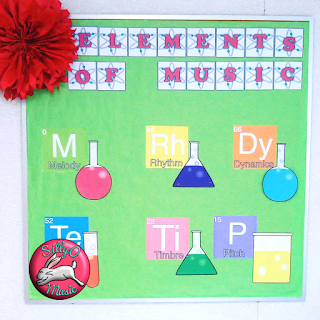 I used this board to refer to when speaking about specific elements.
I eventually added definitions onto the test tubes and beakers, which seemed to help students remember what each term meant.
By the way, the flower takes 5 minutes to make.
I used butcher paper, even though tissue paper will give you a fuller pom-pom.
Here's the step-by-step guide: How to Make Tissue Paper Pom-Poms.
Original Board                                  
Here's how I switched it up to focus on literacy and Dynamics.   
I just removed the other elements, and featured "Dynamics."  Then I put up a some student work that focused on the Dynamics of the "Finale" from
Carmina Burana
.  Next month I will focus on tempo.
New  Board
You could easily draw and cut out your own test tubes, and use die-cute letters, but if you want them pre-made, you can find them here:  
Elements of Music Bulletin Board.